We believe in social enterprise initiatives that support Foodlink's mission, and benefit the regional food system. 
By investing in local farms and providing healthy snacks for children, Foodlink's sliced apples can improve both economic and health outcomes in our region.
During the summer of 2012, Foodlink implemented a Value-added Processing (VAP) program to extend the shelf life of local agricultural products and make them more appealing for consumers — especially children.
This initiative — a true social enterprise — focused on slicing local apples and sending them to local schools. Why apples?
A study published by Cornell Cooperative Extension and Cornell University's Center for Behavioral Economics in Child Nutrition Programs (BEN Center) in 2011 found that consumption rates among children (in Wayne County middle schools) rose more than 70% when schools offered sliced apples compared to those that offered whole apples.
In addition, some schools in Wayne County — the third-ranked apple-growing county in the nation — were sourcing Washington State apples! Local farms lack the infrastructure and equipment to slice their own apples, so Foodlink founder Tom Ferraro decided to take a chance … and the rest is history.
Today, in Foodlink's state-of-the-art commercial kitchen, local apples are washed, sliced, bagged, and distributed to schools across New York State. In 2019, our operations became SQF (Safe Quality Food) certified, which allowed us to expand into new markets with new distributors.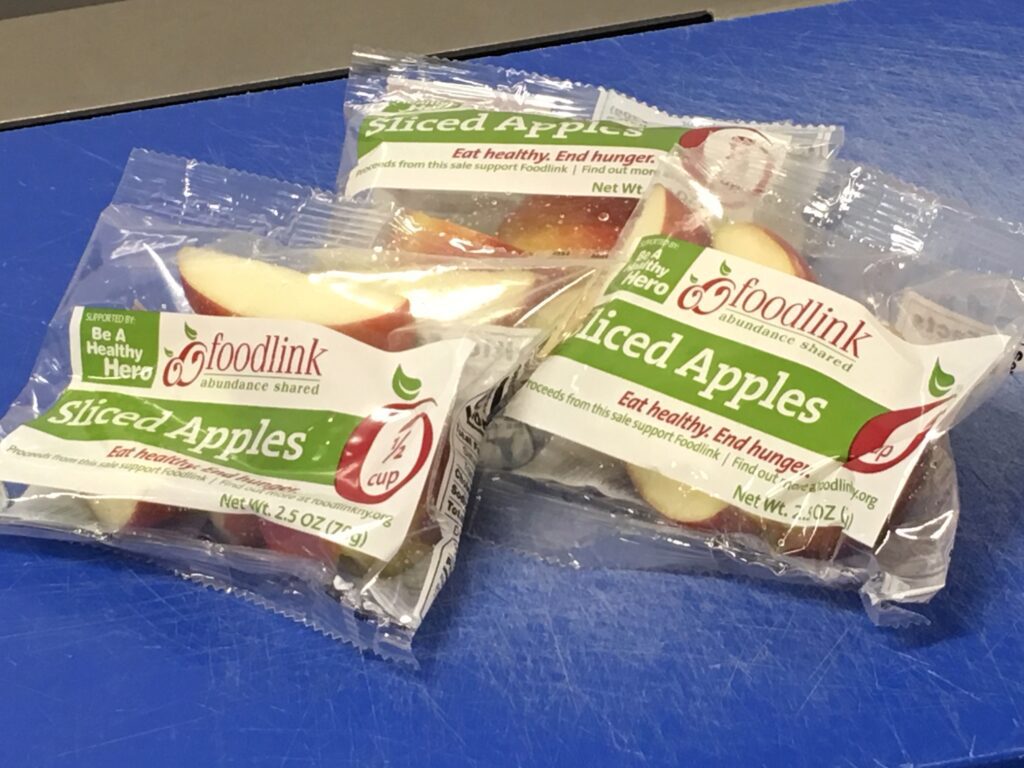 Our Sliced Apples are an official
New York Grown & Certified
product
"We value our partnership with Foodlink because we were their very first sliced apple customer. It's been so great to watch them move and transition into their state-of-the-art facility on Mt. Read, where they continue to make a delicious brand of apple slices that kids love."
Interested in Purchasing Foodlink'S Sliced Apples?
Our delicious, sliced apples meet all NSLP, SFSP, and CACFP requirements for fruit servings, making it the perfect addition to your menu!
If you're interested in partnering with Foodlink, fill out this form and someone from our team will be in touch!