On Friday, December 9, Foodlink's Career Fellowship Class 6 completed their Pre-Apprenticeship curriculum and moved on to be hired as NYS Cooking Apprentices. Moving on to Cook Apprentices is the next step in the four Fellows' Career Fellowship journey.
Colleagues, friends, family and other community members joined Nicole Calloway, Tiazhia Smith, William Smith and Teilyn Walker for a celebratory tasting to congratulate the Fellows. Each Fellow prepared a small bite to share, that showcased their learnings over the past three months. The complimentary bites we enjoyed by many! Those in attendance said, "150 out of 100. Very delicious!"
Beginning Monday, December 19, the Fellows will be training and shadowing at the Foodlink Community Café.  Make sure to stop in, grab a bite to eat, say hello and support Class 6 as they continue their Career Fellowship journey!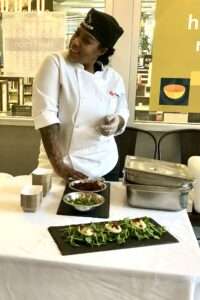 Nicole Calloway created the Next Level Devil, a sinful spin on classic deviled eggs with bacon and jalapenos. Nicole wanted to create something simple, yet packed full of flavor. When thinking of something to make, she picked deviled eggs because she said "who doesn't like a deviled egg?" Nicole's Next Level Deviled eggs had bell peppers mixed in which gave them a crunch then  topped with bacon which gave them a crisp.
Next Level Devil
Tiazhia Smith created Wild, Wild Rice with Sweet Corncakes, a savory, flavor-full rice and beef with a scratch-baked corn cake compliment. Tiazhia dish was inspired by the movie Wild, Wild West. Her goal is to create all vegan dishes one day.
Wild, Wild Rice with Sweet Corncakes
William Smith created Chef's Choice, which was a  housemade beef meatball in a creamy herb Boursin sauce over mezze rigatoni. William likes trying different things and with his passion and love for cooking, he was able to showcase just that.
 Chefs Choice 
Teilyn Walker created the Holy Cannoli, a sweet creamy filling in a hand rolled cannoli shell with mini chocolate chips. Teilyn loves sweets and when deciding what to make for Friday's celebration, she knew she had to make something sweet based on what everyone else was making. Teilyn loves venturing into sweet treats and other pastries.

Holy Cannoli 
Meet the Class 6 Fellows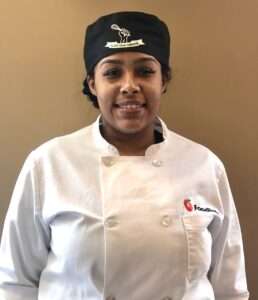 Nicole Calloway
Her dream is to become an executive chef and to be involved while helping the community.
Her favorite dish to make is Mac 'n' Cheese.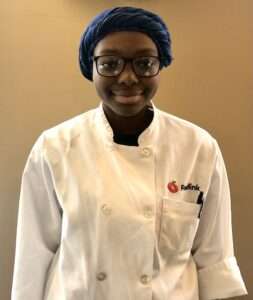 Tiazhia Smith
Her dream is to become a CEC/ multi-successful business owner.
As a Foodlink Fellow, she is proud to be a part of a team that actually cares.
Her favorite dish to make is golden dragon soup.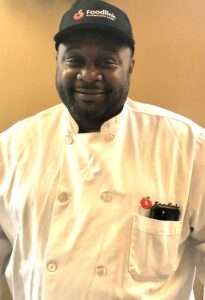 William Smith
As a Foodlink Fellow, he feels a part of the solution, instead of the problem for the first time in his life. He is proud of what Foodlink stands for.
His favorite dishes to make are pepper steak, Mac 'n' Cheese, fried rice with sweet peppers and onions.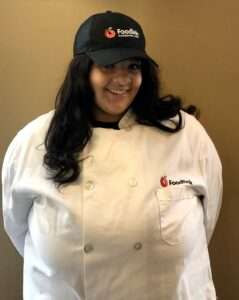 Teilyn Walker
Her goal is to be a Health inspector or a youth age culinary teacher.
As a Foodlink Career Fellow, she is proud of being a part of something healthy for her future.
Her favorite dish to make is a cheesy, crispy bacon, fried egg, and cheese breakfast combo.
______________________________________________________________________________________
If you or someone is interested in learning more about the Foodlink Career Fellowship visit our website.
We will begin recruiting for class 7 of the Foodlink Career Fellowship soon. Continue to check our website and our Facebook page for more information.