Leaders from Foodlink and the University of Rochester Medical Center today announced a partnership to address food insecurity by providing emergency food assistance through health providers, starting with a pilot project underway at Strong Memorial Hospital (SMH).
The URMC Food Pantry, currently being piloted for patients of two ambulatory clinics at SMH, is expected to expand hospital-wide over the next year. Patients are screened for markers of food insecurity during their hospital visit, and those in need receive bags of nutritious, shelf-stable foods intended to support patients and their families for three days. URMC social workers, who follow up with the patients after their visit, can then refer them to additional resources and services provided by Foodlink and other community organizations.
"We applaud our partners at URMC for supporting the nutritional needs of their patients with the launch the first hospital-based food pantry in our region," said Julia Tedesco, president & CEO of Foodlink. "Screening for, and addressing, food insecurity is a great first step. URMC's commitment to provide wrap-around services and engage their social workers to ensure other needs are met and resources are provided is what really makes this program stand out and serve as a model for others to replicate."
"Foodlink has been recognized as a national model for addressing food insecurity in the greater Rochester community," said Kathy Parrinello, executive vice president and chief operating officer for SMH. "We're delighted to help support Foodlink's important work as part of our efforts to strengthen equity in health care by helping all patients live their best, healthiest lives."
Food Insecurity in the Finger Lakes Region
Throughout Foodlink's 10-county service area, more than 152,000 residents are food insecure, meaning they have limited or uncertain access to enough healthy food for everyone in their household. The pandemic exposed just how many households are one emergency away from facing food insecurity. Although economic conditions have improved for many, our region is still seeing a 10% rise in food insecurity compared to 2019, according to a recent study by Feeding America.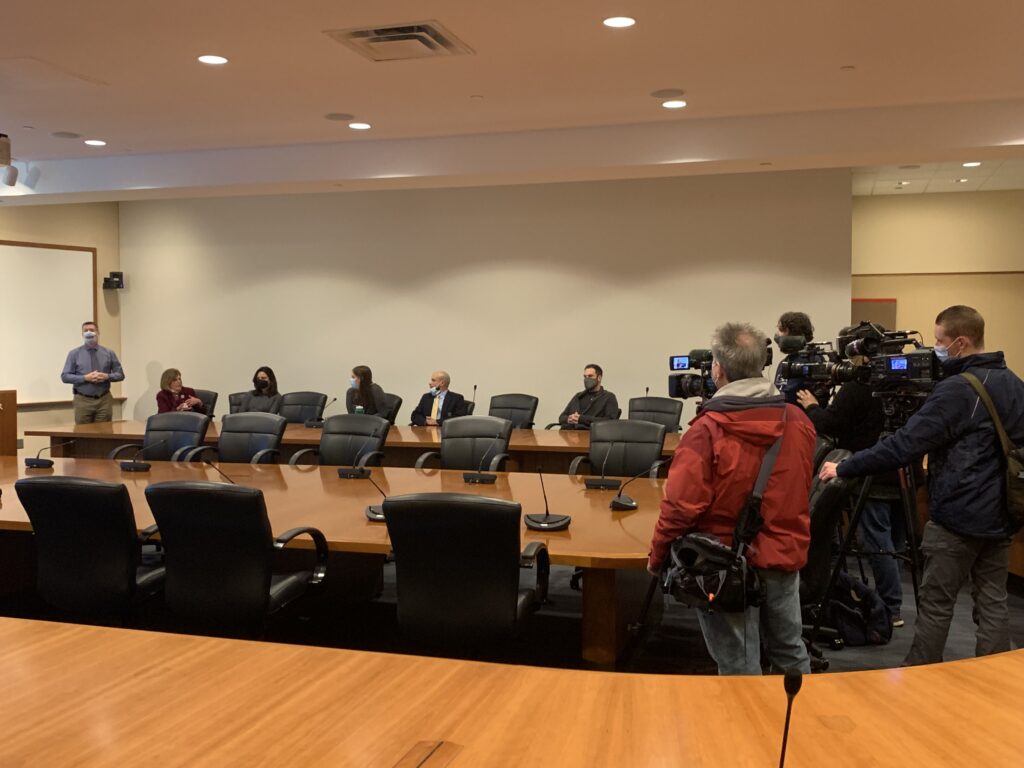 How the SMH Pilot Works
The Foodlink/URMC partnership includes piloting a referral-based, emergency food pantry located in Patient Discharge on the ground floor of SMH. The pantry is currently being piloted with Strong Internal Medicine and Golisano Children's Hospital Pediatric Practice patients in the ambulatory care facility at SMH.
During a visit to either clinic, patients are assessed for food insecurity through a two-question screener. If a food insecurity is identified, patients are offered a voucher to receive a free bag (or two, depending on household size) of shelf-stable food from the on-site pantry that can last for three days, unless properly stored for future use.
Once at Patient Discharge, patients are greeted by SMH Patient Discharge Ambassadors, who assist with providing the bags and maintaining data entry to help the team keep track of the pantry's volume. "Our Patient Discharge Ambassadors play a key role in ensuring our process runs smoothly," said Kelly Luther, director of Social Work and Patient & Family Services at SMH. "I'm glad we're able to optimize the Patient Discharge Ambassadors' collective enthusiasm and passion for ensuring our patients leave our facility with the support they need."
When the Patient Discharge Ambassadors learned that their team would play an important role in the pilot, they were all in. "It's always nice when patients get down to Patient Discharge, and I can get a moment to talk to them," said Aldwin Perez, a patient discharge ambassador who has worked at SMH for 23 years. "I get to know them. And, because of that, I want to make sure they're all set when they leave our doors."
The Food and Nutrition Services team at SMH takes the lead on packing the bags with nutritious food provided by Foodlink, along with recipes and helpful tips for proper storage. "We want to make sure our patients are leaving the pantry with not only enough food to last at least a few days but also nutritious food that's part of a healthy diet," said Jennifer Glen, director of Food and Nutrition Services.
Patients can also expect follow-up from a social worker either after or during their visit. "While the food pantry provides emergency, temporary assistance, we recognize that our patients may need additional support and resources," said Luther. "Our talented team of social workers are prepared and ready to ensure our patients make connections for lasting solutions to address their food insecurities and make healthier living a reality."
SMH social workers may refer patients to additional resources in the community. "There's true value in our relationship with our community partners," said Wendy Parisi, director of URMC's Safety Net & Program Support Office. "Our Foodlink partnership is a shining example of how we can collaborate and leverage our community's resources and work together to improve access to care and services for those in our community who need them most."