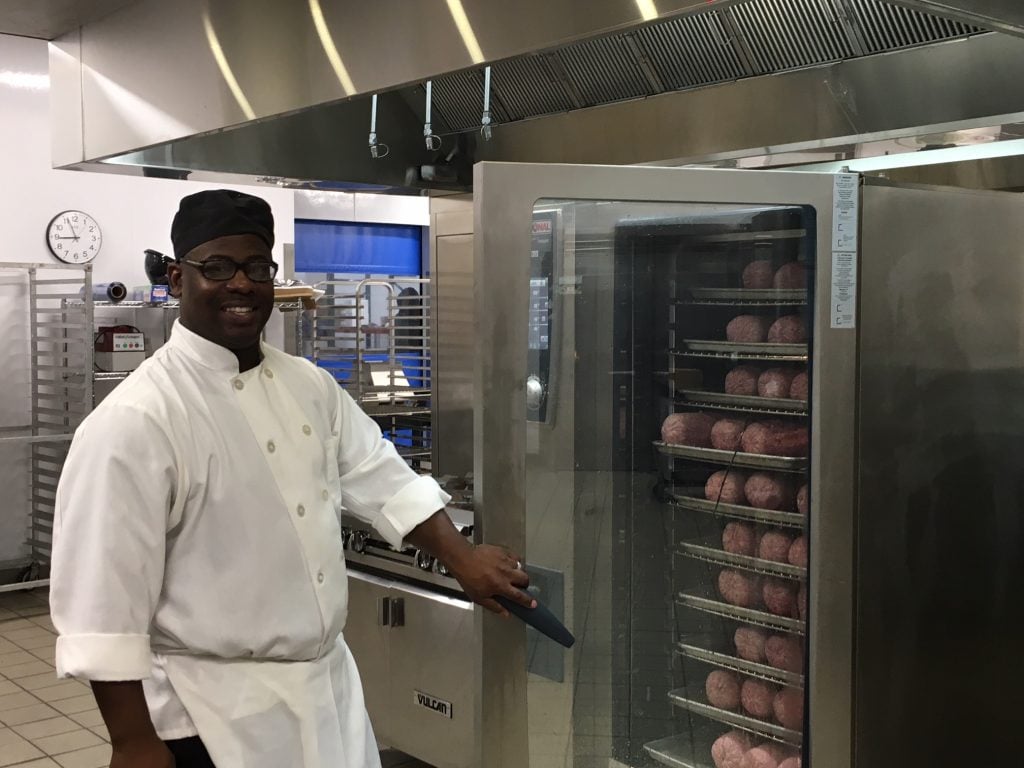 The high-tech, high-speed doors snap upward in an instant. As visitors enter the new Foodlink Community Kitchen, they are introduced to a new way of food banking.
Dec. 5, 2017 marks the one-year anniversary of when Foodlink's staff moved from its former kitchen on Joseph Avenue to its new facility, which occupies 28,000 square feet of space adjacent to Foodlink's distribution center on Mt. Read Boulevard. While the traditional model of food banking helps alleviate hunger within Foodlink's 10-county service area, Foodlink's leaders know solving hunger requires more innovative tactics that address hunger's root causes, such as food access, poverty and unemployment.
Foodlink, in operation since 1978, is proud to be one of the oldest food banks in the country. Founder Tom Ferraro had served on the first Board of Directors for Feeding America, which was originally known as Second Harvest. His legacy continues to drive Foodlink's mission, and the creation of this kitchen had been his dream for decades.
PHOTO ALBUM: The staff that turns our mission into a reality
"Tom had always wanted us all under one roof," said Executive Director Julia Tedesco, noting that the food bank and kitchen had moved around town several times, but were always in different facilities. "What we've built here is a tribute to his incomparable drive to build the health and wealth of this community." 
Visitors who turn the corner after entering the kitchen are quickly introduced to its three primary objectives:
(1) Healthy Meals. Foodlink opened its first community kitchen in 2001 with the goal of raising the bar on institutional food service. Today, Foodlink prepares more than 4,500 nutritious meals daily, and delivers them to schools and after-school sites in Rochester. A staff dietitian helps guide the newly formed Menu Innovation Committee, and production staff now has the benefit of preparing meals with state-of-the-art equipment that rivals any commercial kitchen in the region.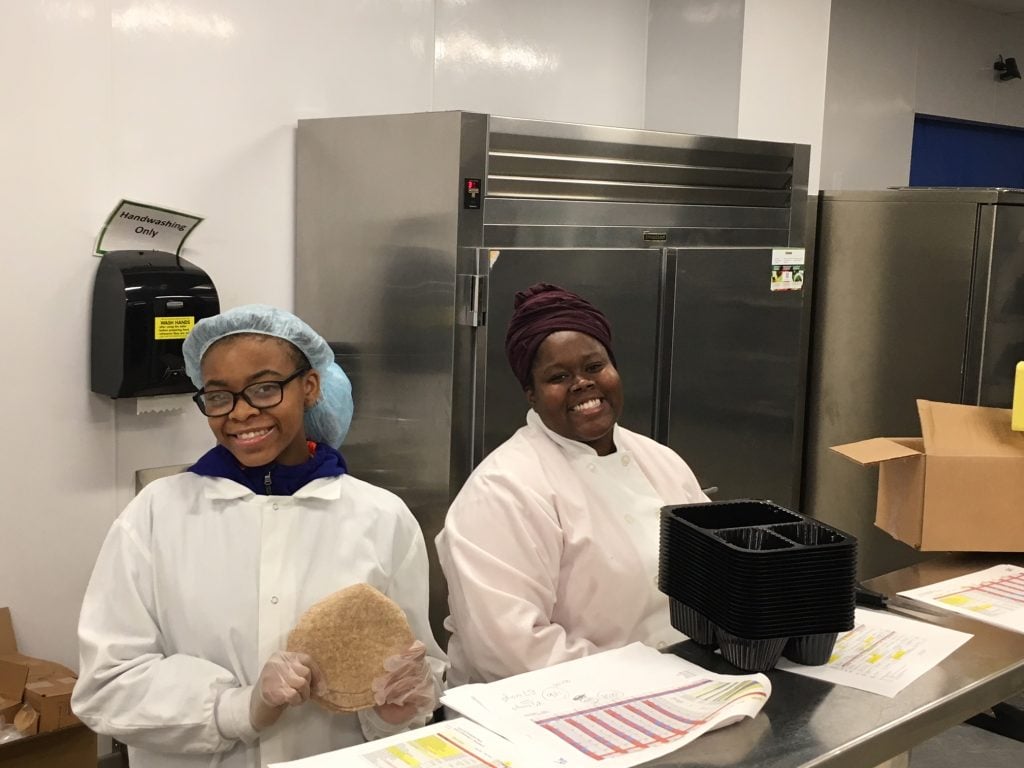 (2) Value-Added Processing. Foodlink feeds people, but also acts as an economic engine thanks to this growing social enterprise. A Cornell University study confirmed in 2011 that children would overwhelmingly prefer to eat sliced apples, rather than whole ones (Many adults do, too!). Foodlink took on this Value-Added Processing (VAP) initiative the following year to help many local farms reach new markets, and provide healthier snack options for local students. Soon, our sliced apple operations will pave the way for Foodlink to pilot other processing needs, such as carrot sticks and cucumber coins.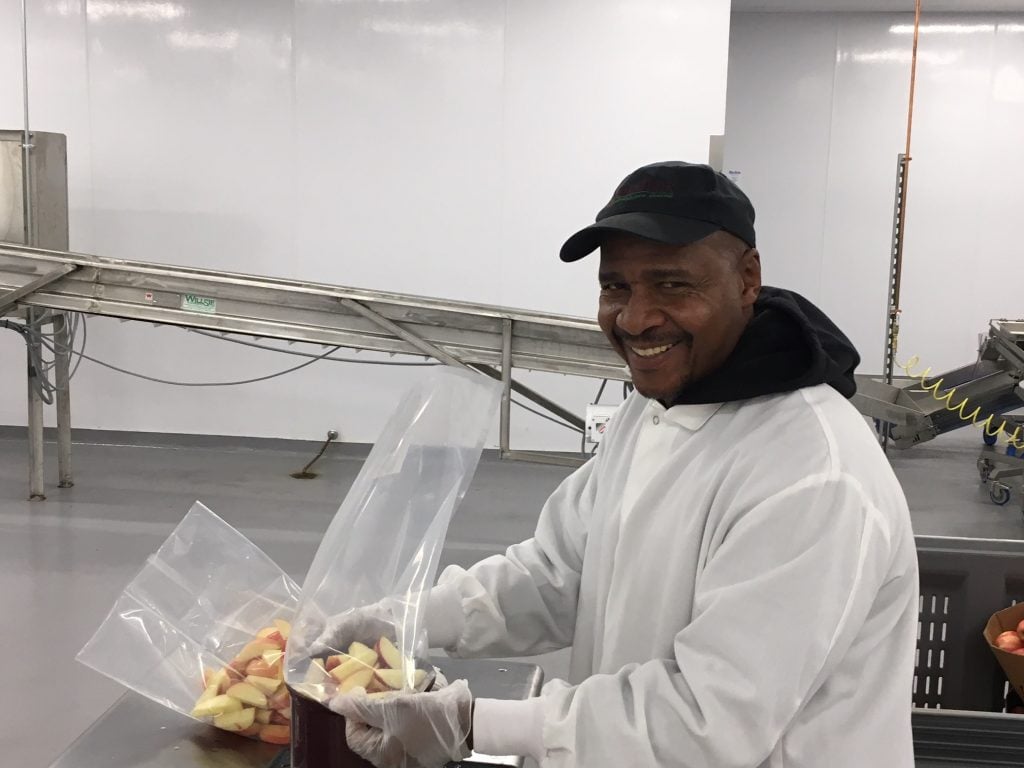 (3) Workforce Development. How do we best serve those in need? By making sure families no longer need us. The best social program we can offer food-insecure people, as Ferraro was fond of saying, is a living-wage job. Foodlink aims to meet this need by launching a one-of-a-kind culinary training program, created to meet targeted workforce needs in the Finger Lakes region. The first class of participants is scheduled to begin training in April of 2018.
A quick loop around the kitchen addresses these main objectives, and visitors are typically led back into the distribution center to finish up the tour – once again through those impressive doors that amaze third-graders and business leaders alike.
"Touring community partners and stakeholders through our kitchen allows them to see first-hand how far we've evolved as a food bank," Tedesco said. "While racks of food several stories high is still an impressive sight in our warehouse, we hope our kitchen has transformed the way people think about Foodlink as a regional food hub that serves this community."