Every year, Feeding America, the largest anti-hunger organization in the United States that includes a network of 200 food banks, conducts the "Map the Meal Gap" study to learn more about food insecurity at a local level. New this year, however, the report shows local estimates of food insecurity by race/ethnicity for some groups.
On Wednesday, Feeding America updated its study to reflect data from 2020. Overall, the report showed that 11.1 percent of the population — or nearly 140,000 people — in Foodlink's service area are considered food insecure. Food insecurity as defined by the USDA is "the condition assessed in the food security survey and represented in USDA food security reports—is a household-level economic and social condition of limited or uncertain access to adequate food."
LEARN MORE: Feeding America's updated Map the Meal Gap report (2020 data)
The data gave snapshots by food bank service area, state, county and Congressional district, and also provided data for people who identified as Black (all ethnicities), Latino or Hispanic (all races), and White/Non-Hispanic. 
According to Feeding America: "We have included these estimates to further illuminate the relationship that food insecurity has to racism and structural oppression, and we believe developing effective strategies to reach people at risk of hunger requires access to the numbers that reflect the experiences of specific populations."
In Foodlink's service area, Black (23%) and Hispanic (24%) residents are four to five times more likely to be food insecure than White/Non-Hispanic residents (5%). 
Feeding America also stated that information for other races or ethnic groups was not available because of limited data at the local level for all of the key drivers of food insecurity (e.g. unemployment and poverty)
To accurately estimate the number of people who may be food insecure in every county and congressional district, the "Map the Meal Gap" report uses publicly available state and local data from the U.S. Census Bureau and the Bureau of Labor Statistics on factors that research has shown to contribute to food insecurity. In addition, the study estimates the cost of a meal, and the amount of need among people who are food insecure.
With this report, communities can grasp an understanding of those in need and identify ways to reach the people in their communities who most need food assistance. For example, the report found that one third of people who are considered food insecure likely do not qualify for the Supplemental Nutrition Assistance Program (SNAP, the nation's largest food-assistance program).  
Foodlink's service area covers 10 counties: Allegany, Genesee, Livingston, Monroe, Ontario, Orleans, Seneca, Wayne, Wyoming, and Yates. More than 1.2 million people live in this region, and among them, approximately 200,000 use Foodlink's services on at least an annual basis. Of the 1.2 million people living in Foodlink's service area, 7% identify as Latino or Hispanic, 10% identify as Black and 78% identify as White, non-Hispanic.  
One other key takeaway from the report, given its timing, was how Feeding America initially projected 2020 data was going to rise sharply due to the onset of the COVID-19 pandemic. However, once the data was compiled, many food-insecurity metrics remained mostly flat. Feeding America attributes help from the federal government, such as the massive relief packages passed by Congress, lifted people out of poverty and food insecurity. 
The Families First Coronavirus Response Act (FFCRA) and other programs helped prevent these rates from skyrocketing by supporting households with expanded unemployment benefits, Child Tax Credits, enacting a national paid leave policy, and increased SNAP benefits and school meal support. Now that we're seeing some programs begin to sunset, Feeding America expects that we may see a rise in food insecurity in future reports. 
"Foodlink advocates for federal nutrition programs year-round because they are proven to work time and time again," said Julia Tedesco, President & CEO of Foodlink. "The COVID relief bills passed during the onset of the pandemic reduced barriers and made it easier for families to put food on the table. Newly released data now show that millions of Americans — and tens of thousands of Rochester-area residents — were lifted out of poverty and more food secure as a result of federal action."
To better understand the impact of food insecurity on a local level, we've broken the data down:
1 in 9 people, or approximately 11 percent, are food insecure across Foodlink's service area. That translates to nearly 140,000 people.

1 in 6 children, or approximately 17 percent, are food insecure across Foodlink's service area. That equates to more than 43,000 children.  

Monroe County is the largest county in Foodlink's service area with a total population of 743,084. Of the total population, 154,685 are children. The overall food insecurity rate is 11.6 percent, whereas 18.9 percent of children in Monroe County are food insecure. Compared to the previous year, Monroe County's numbers remained flat.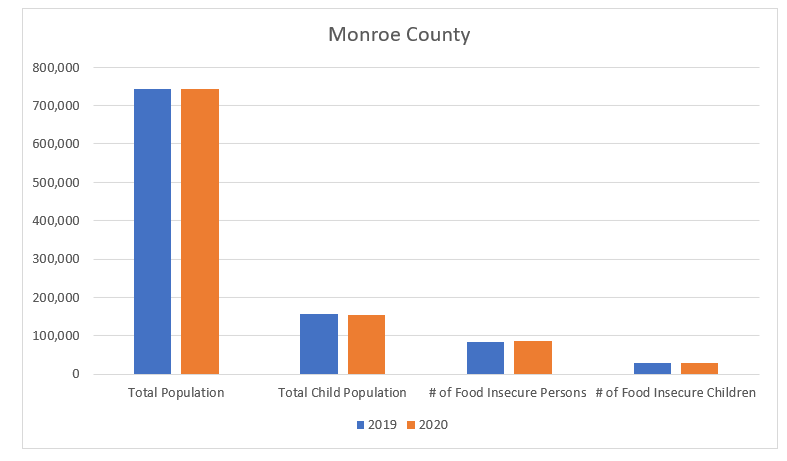 Among the other nine counties in Foodlink's service area, the overall food insecurity rates from low to high were as follows: 
The average cost of a meal between Foodlink's service area varies between Seneca County at $3.04 per meal to Wyoming County at $3.76. The national average cost per meal was $3.25 in 2020 with county meal costs ranging from $2.19 to $10.61. Current trends are showing higher costs due to inflation prices this year. We can expect the average cost for a meal in 2022 to have increased from 2020. 
Overall, Monroe County residents missed 13.9 million meals in 2020 and amongst Foodlink's 10-county service area, 22.4 million meals were missed in 2020.