The Foodlink Career Fellowship's Class of 2020 had an unorthodox path to graduation day, but the celebration was sweet nonetheless.
On Friday, five Fellows who began their journeys in June of 2019 officially marked the completion of Foodlink's intensive culinary training program. They celebrated the achievement, fittingly, with a Zoom-friendly ceremony.
"When you applied to be part of the second class of the Foodlink Career Fellowship 18 months ago, I am certain that you didn't know that you were signing up to be on the front lines at a food bank responding to a global pandemic," said Foodlink President & CEO Julia Tedesco. "But that is exactly what you did. Not only did you complete a grueling curriculum and rigorous coursework, build relationships, skills, accountability and an impressive portfolio — you also stood side-by-side with the Foodlink team preparing meals for our community in response to an unprecedented public health crisis."
FACEBOOK ALBUM: Check out photos from the ceremony
Javia Hart, Tyeasha Hendrix, Wayne Lucas, Jimmy Stiner and Brandi Williams were the stars of the day, which began with a long procession from the Foodlink Community Kitchen, through the warehouse, past cubicles and applauding Foodlink staff, and into the second-floor conference room, where an audience of family members, supporters and other Foodlink staff awaited them on the big screen via Zoom.
Jes Scannell, Foodlink's Director of Career Empowerment Initiatives — and the "backbone of the program" as Tedesco described it — delivered the commencement address. She noted the confidence, humility and perserverence shown by each Fellow throughout the duration of the program.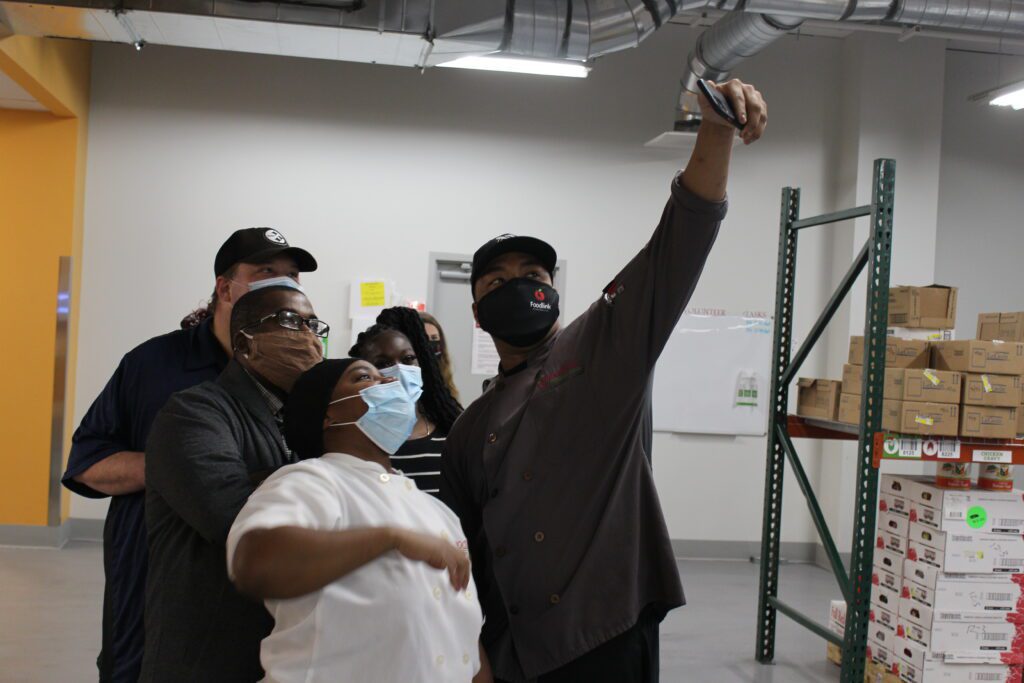 "These are qualities that will continue to serve you in your lives and careers," Scannell said. "They are a sources of strength and inspiration and they are yours … whether your sauce breaks or cake doesn't rise, you have proven you have what it takes to make something beautiful and delicious … and I am so proud to know you."
Scannell also gave special kudos to key supporters of the program, such as Wegmans Food Markets, which continues to provide guidance and host Fellows in their externships; Catalyst Kitchens, a national nonprofit that provides technical support for culinary training programs; and the William & Sheila Konar Foundation, which provided significant grant support for the second year in a row. Representatives from the NYS Department of Labor also joined the virtual ceremony, after assisting the Fellowship throughout the year as the state's very first registered cook apprenticeship.
The graduates were called up one by one, as Chef Trainer Ashley Chung and Career Development Specialist Chelsea Matthews presented them with an embroidered chef jacket and their graduation certificate.
"As we weather the rest of this turbulent time together, I look forward to your future, with culinary careers that fuel your passion, fund your dreams and open the doors for those who follow," Scannell said.
Following the ceremony, the Fellows were treated to lunch by the third class of the Fellowship, which is just a few months into the year-long program. Native Eatery & Bar, one of the Fellowship's employer partners — and where Hart spent part of her externship — provided a take-home meal for the Fellows and their families.