New York's Legislature has voted overwhelmingly to set a goal of cutting child poverty in half in 10 years and taking immediate steps toward that goal with the recent passage of the Child Poverty Reduction Act.
The Child Poverty Reduction Act S.2755-C (Ramos)/A.1160-C (Bronson) carves the beginning of a path to cut child poverty in New York State. The legislation declares policymakers' intent to cut child poverty in half in 10 years and establishes the Child Poverty Reduction Advisory Council tasked with developing a plan to do it. The Council will evaluate specific policies and their impacts on child poverty, including racial disparities, make concrete budget and policy recommendations with benchmarks and timelines, and publicly share data to make sure that New York meets its goal.
Before the pandemic, poverty affected the lives of one in five New York children and, in Rochester, one in every two children. Before the pandemic, a Black child was two times more likely to live in poverty than a white child. Before the pandemic, New York's child poverty rate was higher than 31 other states. 2020 was already well-past time to address child poverty.
Since the pandemic, hundreds of thousands of more children and families have plunged into poverty, including 10,000 in Monroe County by June 2020. Racial inequities have widened and been laid bare. By March 2021, 31% of New York adults reported it had been somewhat or very difficult to pay for usual household expenses and 24% reported not being current on rent or mortgage, with eviction or foreclosure in the next two months likely.
S.2755-C (Ramos)/A.1160-C (Bronson) went before the legislature with 41 co-sponsors in the Assembly and 24 co-sponsors in the Senate. Legislators' votes in support were overwhelming and included Democrats and Republicans from rural, urban, and suburban communities that span the entirety of New York State.
Outside of the legislature, nearly 60 partners, coming from all corners of the state and all walks of life, have joined in advancing the Child Poverty Reduction Act. Enthusiasm for this bold and urgently-needed initiative comes from nurses, pediatricians, parents, educators, child care providers, colleges and universities, hospital leaders, community health centers, child welfare agencies, libraries, youth bureaus, and community-based organizations. These are the people who, every day, see and try to cure child poverty's ills. These are the people who know it would better for our children, our families, our communities, and our state, if we prevented poverty before it seeded poor health, problems in school, and reduced opportunity.
New York certainly has the means to tackle child poverty – it needs the will. When the Governor signs the Child Poverty Reduction Act, New York will become the first state in the nation to publicly commit to cutting child poverty in half and will take the steps to do it.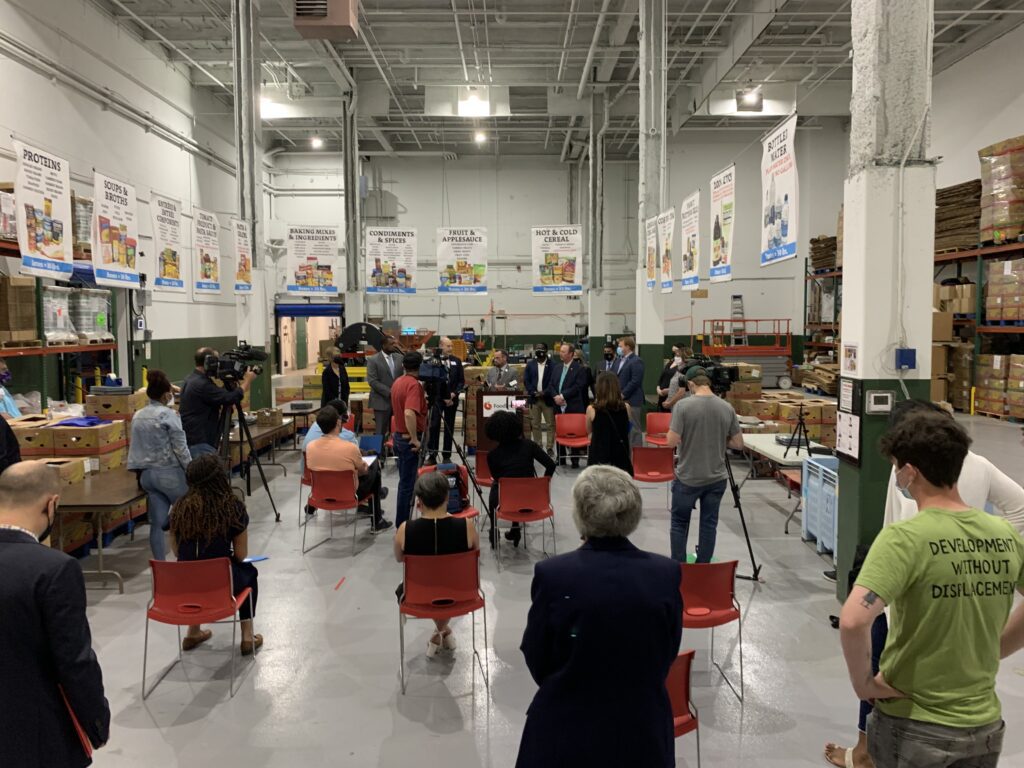 "I grew up in a family of 12 children in a rural town outside of Binghamton," said Assemblymember Harry Bronson. "We all worked together to run our farm. We barely had two nickels to rub together, so I have a real-world experience of dealing with poverty. Today, we know the detrimental effects of living in poverty can last years, if not a lifetime, especially for children who are raised in poverty. But fortunately, we also know that policies that we can affect to help lift those families up out of poverty and into a brighter future. That's why I'm proud to join my colleagues, the advocates and families, and so many others in fight for passage of this legislation that will reduce childhood poverty by 50% in ten years."
"We are grateful that the New York legislature voted to take this historic first step, thanks to the leadership of Assemblymember Bronson and Senator Ramos," said Larry Marx, CEO of The Children's Agenda. "Half of our community's children lived in poverty in Rochester every year of the last decade – enduring hardships that act like a life sentence. But cutting child poverty in half in 10 years is entirely realistic; it's been done before with tax credits, expanded childcare, Pre-K, and home visiting programs for low-income and working families. The public policy decisions New York State makes or fails to make in these same areas from now until 2030 will determine the trajectory of the health, education and success for hundreds of thousands of this generation's children."
"Whenever there is a disconnect among policies, practices and beliefs, families and children lose, said Dr. Shaun Nelms, Superintendent of East High School and Rochester Monroe Anti-Poverty Initiative Executive and Steering Committee member. "This bill provides an opportunity for us to align what families have indicated they need to grow and thrive with the policies from the state. It will allow our daily practices to be centered on our community's prosperity."
"The research is clear: poverty has adverse effects on the physical, developmental, and behavioral health of children," said Patrick Brophy, M.D., chair of the Department of Pediatrics at Golisano Children's Hospital. "This legislation is a vital step forward toward applying the vast resources we have at our disposal to end the public health crisis of child poverty."
"We can't reduce food insecurity in the Rochester area without significantly reducing poverty," said Julia Tedesco, President & CEO, of Foodlink. "We're proudly supporting this legislation, and encourage the governor to sign this bill into law so we can take another step toward build healthier communities in Rochester — and around the state."