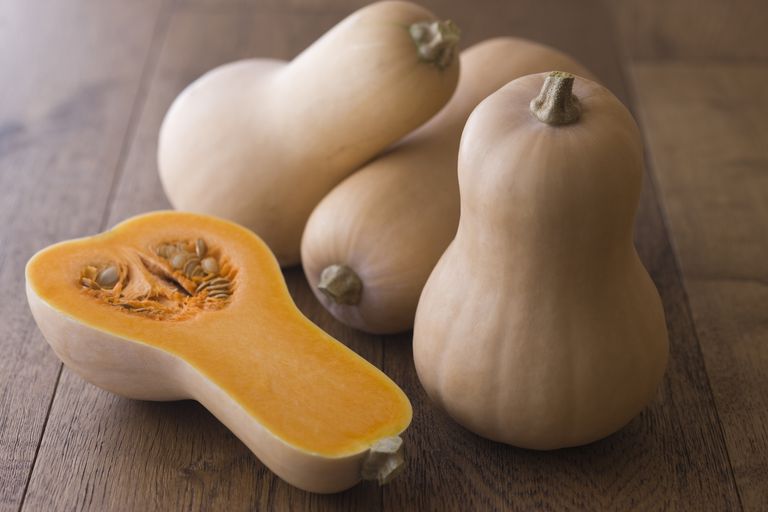 By Martha Wasserbauer
Foodlink dietetic intern from Cornell University 
With the fall season in full swing, a variety of colorful squashes, gourds, and pumpkins can be found at most markets in the area. Winter squash and pumpkins are often used as decorations to celebrate autumn, but did you know that many varieties are edible and are a great source of nutrition?
Winter squash are high in alpha- and beta-carotene, both of which are forms of vitamin A that support eye, skin, and immune system health. They also contain high levels of vitamin C, which fights free radicals and supports cell healing and repair. Most winter squashes provide around 6 grams of dietary fiber per cup, which provides about 25% of most people's recommended daily needs. Squash and pumpkins are good sources of folate, potassium, and antioxidants, which help prevent chronic diseases, such as heart disease, diabetes, and cancer.
Edible pumpkins and squash are easy to store and have a long shelf-life, due to their tough and protective skins. They do not need to be refrigerated, but should ideally be stored in a cool, dark environment to give them a shelf-life of at least one month.
When purchasing winter squash and pumpkins, choose squash that have a hard, intact skin without bruises, cuts, or mold. 1 pound of raw squash or pumpkin will yield about 1 cup when cooked and/or mashed.
There are a variety of methods for cooking edible squash and pumpkins. To boil or steam, peel and cube squash, place in a pot, cover with cold water, and bring to a boil or put in a steamer basket and cook until soft. Try baking squash by cutting in half lengthwise, removing the seeds, and placing in the oven on a baking sheet at around 400 degrees F.
How to Peel and Cut a Butternut Squash
1. Using a heavy chef's knife, cut off 1/4 – 1/2 inch from the top of the squash at the stem end.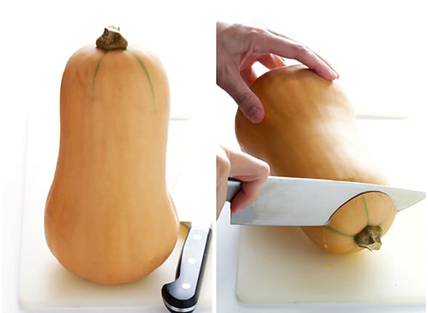 2. Cut off about 1/2 inch from the bottom of the squash. 
3. Use a sharp vegetable peeler to remove the skin from the squash. *If you do not have a sharp peeler, you can go to the next step and cut the squash in half. Then, use the knife to slice off the peel while standing each squash up vertically.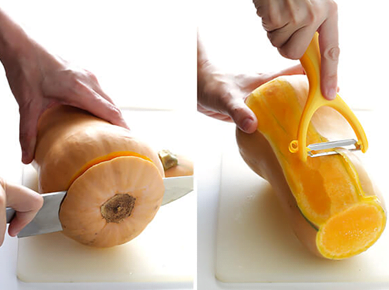 4. Lay the squash on its side and cut it in half at the neck where the squash begins to curve.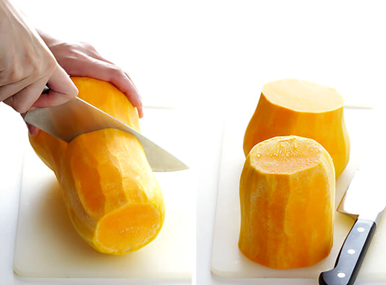 5. Place each squash half on its flat end and cut in half vertically. You should end up with 4 squash quarters. Using a spoon, scrape out the seeds.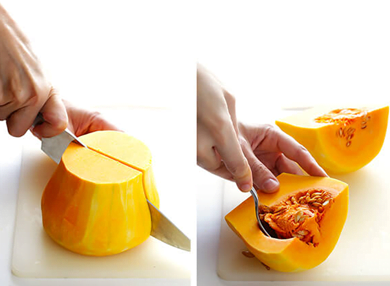 6. Lay the flat side of each squash quarter on the cutting board and cut into 1/2 – 1 inch slices. Repeat with each squash quarter.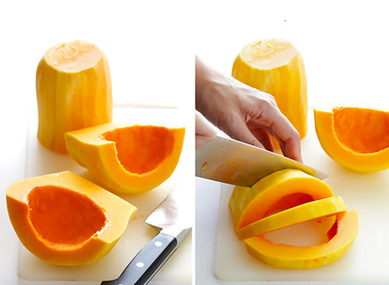 7. Cut the slices crosswise into cubes. The smaller the pieces, the faster they will cook.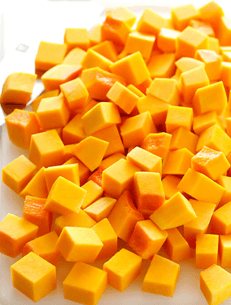 RECIPE: Holiday Roasted Butternut Squash
Serving Size – Serves 6, ¾ cup per serving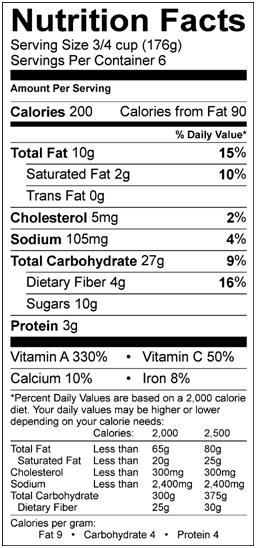 Ingredients
• 2 pounds butternut squash
• ¼ cup walnuts
• 2 tablespoons canola oil
• 1 teaspoon dried sage
• ¼ teaspoon salt
• ¼ teaspoon ground black pepper
• 1 tablespoon butter or canola oil
• ¼ cup dried cranberries
• 1 ½ tablespoons maple syrup
Instructions
1. Preheat oven to 375°F.
2. Rinse and peel squash. Cut off ends and discard. Cut squash at the neck, creating a narrow end and a round end. Cut round end in half and scoop out seeds with a spoon. Cut both ends into ¾-inch, even-sized cubes.
3. Coarsely chop walnuts. Set aside.
4. In a large bowl, add squash. Toss with oil, sage, salt, and ground black pepper.
5. Spread squash evenly on a baking sheet. Roast, stirring once until tender, about 35 minutes.
6. In a small skillet over medium heat, melt butter or heat oil. Add walnuts and cook until fragrant, about 2 minutes. Remove from heat. Stir in cranberries and maple syrup.
7. Gently toss cooked squash with cranberry mixture.
References
Winter squash. United States Department of Agriculture website. Updated November 8, 2017. Accessed November 9, 2017. 
Swartzendruber K. Enjoy the taste and health benefits of winter squash. Michigan State University Extension website. Published September 24, 2012. Accessed November 9, 2017.
How to peel and cut a butternut squash. Gimme Some Oven website. Published November 29, 2016. Accessed November 9, 2017.
Lucarelli K. Holiday roasted butternut squash. Share Our Strength's Cooking Matters website. Accessed November 9, 2017.