The Partnership for a Healthier America (PHA) – the premier national nonprofit working to transform the food landscape in pursuit of health equity – today announced an expansion of its COVID-19 Fresh Food Fund to Rochester in partnership with Foodlink. This partnership represents an expansion of PHA's COVID-19 Fresh Food Fund, which first launched in Denver and has already provided 650,000 servings of fresh fruits and vegetables to communities economically impacted by COVID-19. 
"Foodlink is honored to be selected as the second city nationally to provide access to the Partnership of a Healthier America's COVID-19 Fresh Food Fund," said Julia Tedesco, President & CEO of Foodlink. "The partnership was a natural fit for our Curbside Market, which has an already impressive track record of increasing access to healthy foods in underserved communities."
PHOTOS: Facebook album from the 'Fresh Picks' announcement
Through the COVID-19 Fresh Food Fund, Foodlink has made available boxes of fresh produce — labeled Fresh Picks — at subsidized rates on their Curbside Market, a mobile farmers market for communities throughout Rochester and the Finger Lakes region with limited access to fresh produce. Each box contains approximately 10 pounds of fresh, high-quality produce, alongside high-impact print and digital nutrition resources. Each Fresh Picks site will be staffed by ambassadors trained in helping customers to learn how to use these digital tools, and promoting access to the program. 
"One of the core goals of the COVID-19 Fresh Food Fund is to showcase the unmet demand for fresh fruits and vegetables in disadvantaged communities and to work with retailers to provide increased access to produce in those communities," said Nancy E. Roman, President and CEO of Partnership for a Healthier America. "The COVID-19 Fresh Food Fund, in conjunction with Foodlink's Curbside Market, fills a critical short-term need, but the learnings will help drive our long-term vision as well."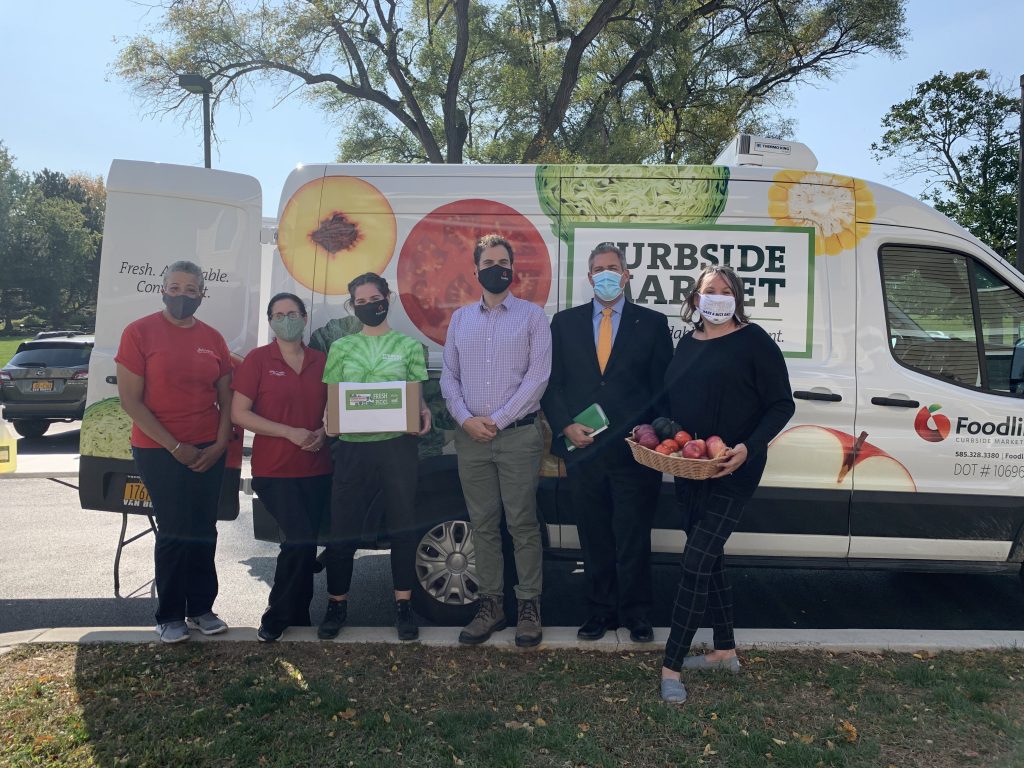 The COVID-19 Fresh Food Fund was created in partnership with the Produce Marketing Association (PMA) and, in Rochester, is funded by a grant from the New York State Health Foundation (NYSHealth), Wegmans, and individual donors throughout the country. The program links fruits and vegetables, which may have otherwise gone to waste, to communities experiencing barriers to accessing fresh produce, such as economic hardship during the COVID-19 pandemic. Through the Fresh Picks boxes, families will receive printed cards featuring recipes from Oldways and digital resources from Foodsmart by Zipongo to help integrate fruits and vegetables into their diets and lives for the long term.
"As we look to build a Monroe County that is equitable for all, it is important to remember that some of our most vulnerable populations often live in areas that have limited access to affordable and nutritious food," Monroe County Executive Adam Bello said. "I am extremely pleased to see this collaboration between Foodlink and Partnership for a Healthier America in order to pursue food equity, especially during this unprecedented and uncertain time."
The program started at the beginning of August and for each week until the end of December, customers at Curbside Market sites will be able to purchase Fresh Picks boxes at affordable prices. Foodlink projects to sell more than 9,600 boxes by the end of the year.
When the Curbside Market relaunched in July, Foodlink reduced its schedule in order to follow necessary safety protocols due to COVID-19. This program is helping former sites continue to access fresh produce until the market's schedule can expand again.
PHA and Foodlink have partnered with American Fruit & Vegetable Company, a local food distributor, to procure produce from local farmers, pack, and deliver the boxes. Foodlink staff and volunteers will manage the distribution of the Fresh Picks boxes at Curbside Market sites, adhering to all local, state, and federal regulations around food and COVID-19 safety. Site coordinators help advertise, organize, and enroll customers. 
Foodsmart by Zipongo will be providing every Fresh Picks box recipient with complimentary access to its digital platform, a comprehensive tool designed to make healthy eating easy. Benefits include: nutrition assessment with personalized insights, personalized recipes that incorporate the fresh food provided in boxes, and discounts on other grocery items available nearby.
The Fresh Picks boxes in Rochester offer balanced nutrition, variety, and seasonal produce to a two-person household for approximately one week at a time. The goal is for the boxes to provide two to three servings of produce per person each day, with a 60-40 ratio of vegetables to fruits.
A sample box will include:
 4 Valencia Oranges 
4 Red Delicious Apples 
4 Nectarines 
2 Red Onions 
4 Idaho Potatoes
5 Locally Grown Bi–Color Corn 
"The communities that have been disproportionately affected by COVID-19 will require even more support and attention on the road to recovery," said David Sandman, Ph.D., President and CEO of NYSHealth. "The Rochester Fresh Picks program responds to the immediate needs of food-insecure residents by linking them to fresh, affordable produce from local farms. This project will also seed healthy food habits in communities that can last well beyond the current crisis."  
PHA and Foodlink are excited for this opportunity to build on the success of the COVID-19 Fresh Food Fund in Denver, while exploring alternative models for building long-term retail access to fresh produce for underserved populations.