Foodlink is taking several precautionary measures to both mitigate the spread of COVID-19 (coronavirus), and to ensure we are equipped to continue to serve and nourish our communities.
Foodlink is the hub of the emergency food system in the Finger Lakes and Genesee Valley regions of New York. Our operations will continue to serve those who might be affected by the risk-reduction measures implemented throughout our 10-county-service area. We have been in communication with Feeding America — the national network of 200+ food banks — local government officials, and public health experts to formulate various plans to feed our neighbors.
Below is a summary of Foodlink's COVID-19 response efforts, which will be updated as the situation evolves. Those seeking food assistance are encouraged to call 2-1-1 or text 898-211 to learn about resources throughout our 10-county region.
MAKE A DONATION: Foodlink's COVID-19 Response Fund
VOLUNTEERING: Sign up for a shift through the United Way's portal | Join the waiting list for Foodlink
FIND FOOD: Local meal sites for children | Emergency Food Supply Boxes | Visit 2-1-1's website
---
APRIL 7
Foodlink today announced its Phase II distribution schedule for the next 10,000 Emergency Food Supply Boxes (EFSBs). All Monroe County sites, listed below, require pre-registration through 2-1-1 (text 898-211).
Visit our EFBS page to find a complete list of 24 sites.
Translation: Spanish version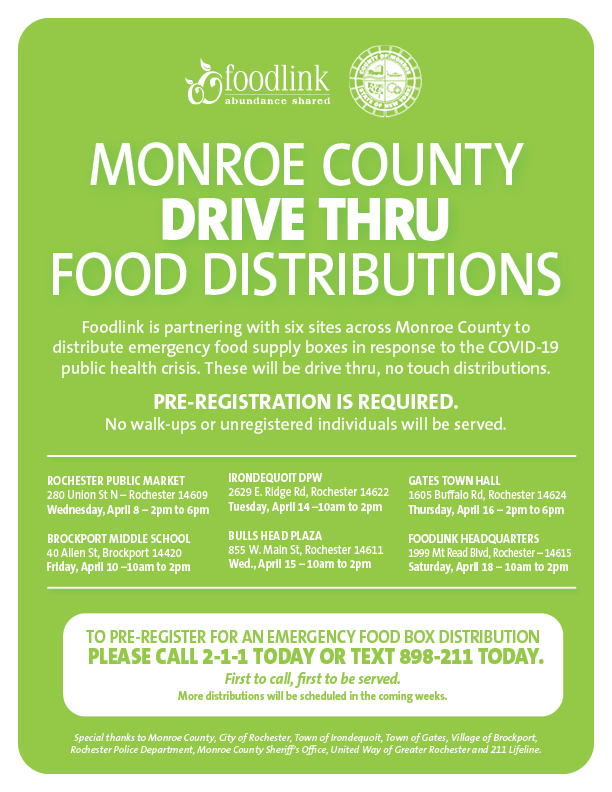 VOLUNTEER HELP NEEDED WEDNESDAY
We've added another two volunteer shifts through the United Way's portal for Wednesday (morning and afternoon)! We need to finish packing our emergency food supply boxes for Phase III.
Sign up at: http://bit.ly/UWFoodlinkshifts
---
APRIL 6
Quick shoutout to the wonderful team at Julia K. Caters for working with our kitchen staff to produce additional healthy meals for school-age kids at our Rochester R Center and school sites!
We were happy to collaborate with and support a great local business during these challenging times! Thank you for your help, and partnership!
APRIL 5
Thank you to everyone who has made this possible …
APRIL 4
Monroe County Health Commissioner Dr. Michael Mendoza has issued updated guidelines for masks, as a result of new recommendations by the Centers for Disease Control:
In light of new scientific evidence, the CDC is now recommending wearing cloth face coverings in public settings where social distancing measures are difficult to maintain.

Face coverings are NOT a substitute for social distancing. https://t.co/POhtKSTYPX

— Dr. Mike Mendoza (@DrMikeMendoza) April 4, 2020
---
APRIL 3
Thank you to our friends at the Rochester Americans — and everyone at Pegula Sports + Entertainment, for sending us food donations, which will support some of our high-need member agencies during this difficult time.
We look forward to getting this food out the door soon to our network, and a continued partnership with more deliveries in the month ahead!
---
APRIL 2
FAQ FROM THE MCHD
There are many questions about COVID-19. Below are some of the most common listed by the Monroe County Health Department, along with answers that have been vetted by public health officials.
What does social distancing mean?
Social distancing is deliberately increasing the physical space between people to avoid spreading illness. Staying at least six feet away from other people lessens your chances of catching COVID-19.
Can I visit my relatives or friends?
Do not visit loved ones in person. Use the phone or other electronic devices. Deliver food or other essential items to the doorstep.
How can I keep safe when I need to go out for essential items like food?
• Make as few trips as possible.
• Shop and return home as quickly as possible.
• Make a list in advance.
• Consider using delivery services or the self-checkout lane.
• Wipe down the shopping cart, touch screens and touch pads before and after use.
What if we are outside?
• Avoid close contact with people, even when outside.
• Keep at least 6 feet apart to help slow the spread of COVID-19.
• Avoid games and activities that require close contact.
• Avoid frequently touched surfaces and objects. This includes playground equipment like slides and swings.
• Do not share equipment such as bicycles, helmets, balls or frisbees.
• Do not gather in groups.
• When you return indoors, wash your hands with soap and water for at least 20 seconds or use an alcoholbased hand sanitizer containing at least 60% alcohol.
BLOG POST: 'Do your part' to help flatten the curve
---
APRIL 1
Time for Phase III!
Foodlink has opened up another four days worth of shifts at the Rochester Riverside Convention Center, and begin packing the next round of 10,000 boxes on Friday.
If you are healthy and want to help out with the next 10,000 Emergency Food Supply Boxes, sign up at: bit.ly/UWFoodlinkshifts
---
MARCH 31
WEGMANS DONATION
Foodlink has been amazed at the community support we've received in recent weeks, and we're once again floored by another generous donation.
Wegmans, our strongest community partner for more than four decades, recently announced it is donating $4 million to its partner food banks.
From their website:
"At times like these, everyone is called on to come together and support one another. One of our highest giving priorities is providing food for people at risk of hunger. The best way to do this is by supporting local food banks that can provide food directly to people in need. Given the unknown duration and overall impact of this crisis, Wegmans is donating $4 million spread across all our partner food banks. We will continue to support our partners and adapt as needed."
CURBSIDE MARKET & NUTRITION ED UPDATE
Foodlink is continuing to reassess COVID-19's impact on our region and programs, and have made the decision to further suspend all of our Curbside Market and Nutrition Education activities through May 1.
We will continue to discuss when would be a safe and appropriate time to resume both of these programs. Thank you for your patience and understanding.
---
MARCH 30
UPDATED MEAL SITES
Foodlink has updated its meal site map (above) to reflect a few recent changes:
School 7 has been added as distribution site (8 a.m. to 2:30 p.m.)
Action for a Better Community sites are suspending their meal service
VOLUNTEER POWER
We were back at the Convention Center today after a 2.5-day hiatus as we awaited more product to be delivered. Today's crews were on point!
Morning: 1,290 boxes
Afternoon: 1,470 boxes
TOTAL: 2,760 boxes!
Well done, everyone!
---
MARCH 29
Thank you to everyone who has played an integral role in feeding the community these past couple weeks!
---
MARCH 27
Foodlink is canceling its Convention Center volunteer shifts for Saturday, March 28, and trying to divert people to sign up for a Distribution Center shift instead. With food donations starting to mount — the priority for Friday and Saturday pivoted to sorting, boxing and weighing items to go out to our network of hunger-relief partners throughout our region.
We continue to be in touch with the Monroe County Department of Health to ensure we are providing a safe volunteer experience — at both the Convention Center and our Distribution Center. Two points of emphasis they noted included: (A) Masks and gloves are unnecessary for sorting food, and actually pose a greater health risk — and could spread illness faster — if not used properly; and (B) Maintaining at least 6 feet of social distancing is one of the most important protocols we need to be communicating to our volunteers. Please help us abide by both of these rules in the weeks ahead!
The Convention Center shifts will resume Monday.
---
MARCH 26
MORE VOLUNTEER SHIFTS!
Foodlink is now accepting small groups of volunteers in its distribution center, to help our staff keep up with our typical stream of food donations. We will continue to use the United Way's volunteer portal to recruit healthy and willing volunteers. Check out the links below for the latest opportunities, March 31 through April 10.
Thank you!
ADAM INTERVIEWS
Our President and CEO, Julia Tedesco, was the featured guest on Adam Interviews with News 8's Adam Chodak. The interview aired Thursday night, but you can check out the extended version here.
---
MARCH 25
The information posted on March 23 continues to be a priority for Foodlink, related to the recruitment of volunteers to help us pack a second round of 10,000 Emergency Food Supply Boxes — and where those in need of emergency food can find these boxes throughout our 10-county region in the week ahead.
Today, WXXI's Connections diverged from the hard news and numbers associated with COVID-19 and how it has disrupted our way of life. Instead, it held a discussion about "one of the few activities that remains entirely appropriate during the pandemic." Urban agriculture and gardening is a subject matter that Foodlink is passionate about, and we're lucky to have Nathaniel Mich — a leading local expert on the topic — on our staff. He was invited to be part of the panel.
LISTEN: Check out the podcast
---
MARCH 23
MORE VOLUNTEER SHIFTS!
As we near the end of our first 10,000 food boxes, we're planning ahead for the next 10,000! The United Way's volunteer portal has just opened up another eight days worth of shifts at the Rochester Riverside Convention Center!
Sign up for a shift today!
EMERGENCY FOOD SUPPLY BOXES
You've been hearing plenty about Foodlink's Emergency Food Supply Boxes, and we're poised to finish up packing our first 10,000 soon with the help of our gracious volunteers!
Below, you'll find information about how those in need can access our emergency food network, which will begin receiving these boxes today and through the next couple weeks. Local food pantries and Mobile Pantry sites will serve as the main distribution points. As always, we are encouraging the public to contact 2-1-1 — or visit their website — to learn about a site near them.
Foodlink has also set up a hotline (# listed below) , to help people find a site and/or access an Emergency Food Supply Box.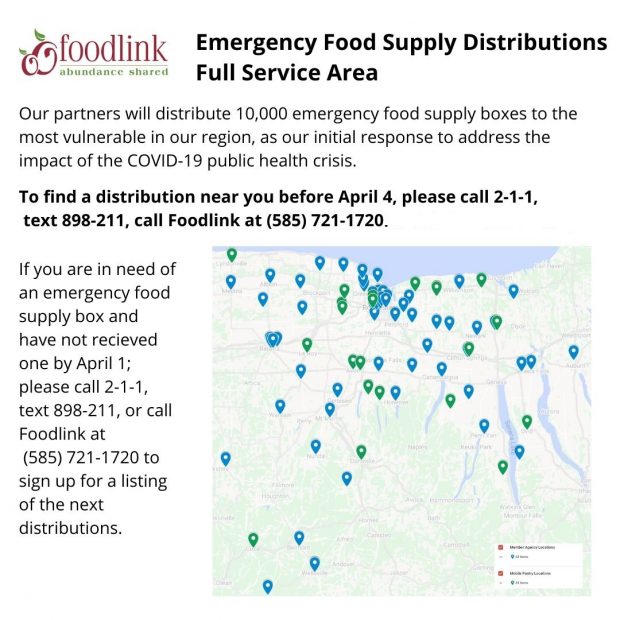 ---
MARCH 22
One week down … many more to go.
It's been a grueling week, but it's also been our pleasure to serve you.
On to week 2 …
---
MARCH 21
An amazing group of volunteers joined Foodlink Saturday at the Rochester Riverside Convention Center for the third of five shifts designated to pack 10,000 Emergency Food Supply Boxes for food-insecure households in our service area. It was our most efficient day yet, as 2,600 boxes were packaged with 45 pounds of food each … bringing the Week One total to 7,892! The final shifts are scheduled for Monday and Tuesday.
This came a day after Gov. Andrew Cuomo signed an executive order that mandated all non-essential workers stay home to prevent the spread of COVID-19 — starting Sunday at 8 p.m. Foodlink sought clarification on the order to ensure that our volunteers could still assist us during this time of crisis. We confirmed that the order did, indeed, exempt volunteers that were critical to our operations.
Mark's Pizzeria came through with their second straight day of providing free pizza to staff and volunteers at the Convention Center. They plan on returning Monday and Tuesday to continue their good will.
Finally, we were pleased to see two valued fellow non-profits chipping in today. Larry Marx, President & CEO of The Children's Agenda, and Deb Rosen, Executive Director of Bivona Child Advocacy Center, were both hand Saturday to help us pack boxes.
Thanks to everyone for another impactful day!
---
MARCH 20
IRONDEQUOIT DISTRIBUTION
We established a great partnership with the Town of Irondequoit and the Irondequoit Community Cupboard to host a food distribution today at Bishop Kearney High School.
Foodlink is approximately halfway to its goal of packing 10,000 Emergency Food Supply Boxes, for distribution to our existing emergency food network (food pantries, meal programs, shelters, & Mobile Pantry sites). The first set of those boxes — approximately 350 — were handed out in Irondequoit on Friday, as cars pulled up, and volunteers helped load the 45-pound boxes into vehicles. Residents pre-registered earlier in the week to receive a box.
"I'm glad that we were able to meet the need that was here, and I think it's eye-opening for us that we'll be needing to do this for several weeks, and figure out how we can all work together," said Irondequoit Supervisor Dave Seeley.
Foodlink has a strong network of community partners ready and willing to step up in this time of crisis, but credited Irondequoit for organizing an excellent model for how to move emergency food into homes in a quick and efficient way.
"What you're seeing is hundreds of residents from Irondequoit — low-income residents — receiving 50-pound boxes of food in a really controlled, safe, calm environment," said President & CEO Julia Tedesco. "That's what we hope every emergency food distribution for the time-being looks like."
Tedesco said this is "Phase I" of Foodlink's food banking response to COVID-19, with likely thousands more food boxes getting packed and delivered in the next several weeks.
Thank you so much to @daveseeley430 and @Irondequoit_ny for coordinating the distribution of 21,000 pounds of food for our community. More than ever, families need food on their table during this crisis — and we will continue our work to provide that security and stability. pic.twitter.com/PcmbWMDLUp

— Joe Morelle (@RepJoeMorelle) March 20, 2020
SHIFTS ARE FULL!
Our Convention Center volunteer shifts are full! Thank you immensely to everyone who signed up through next Tuesday!
You can still sign up to be on our waiting list to hear about future opportunities by visiting the "Volunteer United" web portal.
---
MARCH 19
UP AND RUNNING
Many thanks to the volunteers helping out today at the Convention Center! Your support is critical to help us get these Emergency Food Supply Boxes out the door, and into homes ASAP.
For our first day at the Convention Center and getting our bearings, things went remarkably well. Between the morning and afternoon shifts, we were able to pack more than 1,500 boxes!
Back at it tomorrow … and there are still a couple sign-up slots left for Friday/Saturday — and plenty more for Monday/Tuesday. Come join us!
DON'T FORGET MENTAL HEALTH
Foodlink was proud to partner with NAMI (National Alliance on Mental Illness) Rochester to help address issues beyond food needs that may be affecting many of the people we serve during these difficult and uncertain times.
During today's afternoon shift at the Rochester Riverside Convention Center, NAMI dropped off more than 5,000 small booklets on mental illness, suicide prevention and addition recovery, which we added to the food boxes going out to the public — starting Friday.
Thank you for your partnership!
LEARN MORE: NAMI Resource guide
---
MARCH 18
CONVENTION CENTER PARTNERSHIP
Exciting news to share! Thanks to support from the Joseph A. Floreano Rochester Riverside Convention Center, we'll be able to open up two additional sorting stations at their facility to assist us with food distribution! Shifts for Thursday are now available through the United Way's volunteer portal:
Please note: Once you click on the links above, you'll be asked to read critical health information/instructions about who can safely volunteer for this activity — following the recommendations from local health officials and the CDC.
PRESS CONFERENCE
President & CEO Julia Tedesco participated in a virtual press conference with Mayor Lovely A. Warren on Wednesday to further discuss food and meal options for local residents during the COVID-19 crisis.
Key messages included:
Foodlink has produced 12,000 meals in the last 3 days, and will prepare 8,000 more by the end of the week.
Foodlink will have also packed 6,000+ emergency Emergency Food Supply Boxes filled with non-perishable food, by the end of the week. These boxes will go out to our network of emergency food providers, Mobile Pantry sites, and special food distributions. Foodlink intends to pack 10,000 of these 40-pound boxes by next week.
Foodlink and RCSD continue to work with City R Centers and schools to adjust meal numbers to meet the needs of city residents. There remains 16 total sites serving the community at this time.
Action For a Better Community also has partnered with Foodlink for "grab-and-go" lunches, from 11 a.m. to 2 p.m. at the following locations: 1772 Clifford Ave., 30 Hart St., 1150 Hudson Ave., and 640 Jefferson Ave.
Foodlink is also partnering with the Maplewood YMCA — to fill a service gap in NW Rochester — to provide "grab-and-go" meals Monday through Friday (10 a.m. to 6 p.m.), beginning on March 19.
Tedesco also thanked the YMCA for being an important child care provider to residents during these uncertain times … including to employees at Foodlink.
Foodlink will be partnering with Lifespan for home deliveries of meals to seniors by the end of the week.
Foodlink also has set up a special food distribution with the Town of Irondequoit and the Irondequoit Community Cupboard this Friday at 10 a.m. at Bishop Kearney High School. The town is releasing information soon to allow people to pre-register for the distribution.
Finally – Tedesco also praised 2-1-1 as a critical information hub at this time. Foodlink encourages all organizations to communicate up-to-date information with 2-1-1 staff to ensure our community has access to as many all resources as needed at this difficult time. From Program Director Deb Turner:
211/LL continues to be a committed 24/7 point of access for community members seeking resources like food and other non-medical needs. Currently 211 is being overwhelmed with food and other need requests, therefore we ask the community to remain patient as they work hard to get to each person in need and consider utilizing other access points like their website at 211lifeline.org or texting 898-211 for resources. Utilizing this multiple access points will help get more vital information out to more individuals and families in need.
---
MARCH 17
EMERGENCY FOOD SUPPLY BOXES
On Tuesday morning, work began on assembling 10,000 boxes of food — Emergency Food Supply Boxes — filled with approximately 42 pounds of non-perishable foods.
Foodlink staff worked tirelessly all day in "First Sort" as boxes rolled down the conveyor belt. Foodlink will distribute these boxes at Mobile Pantry locations (link below), to our member agencies — and at special supplemental distributions in high-need communities. We will announce those dates and sites in the coming days.
Each box contains: 4 boxes of pasta, 4 jars of tomato sauce, 2 jars of peanut butter, 1 jar of jelly, 9 granola bars, 3 cans of chicken, 1 can of tuna, 1 jar of mayo, 3 cans of chickpeas, 3 cans of soup, 2 bags of dried beans, split peas or lentils, 3 cans of mixed vegetables, 3 cans of fruit, 2 cans of applesauce and 2 quarts of shelf-stable milk.
MOBILE PANTRY PROGRAM
Foodlink's Mobile Pantry program is a vital resource for many communities seeking food assistance during the COVID-19 public health crisis. These free, monthly distributions include a wide variety of food products from Foodlink, and are hosted by dozens of community partners throughout our region. We update our schedule monthly and post it to our website at: http://bit.ly/FoodlinkMobilePantries
The local outbreak of COVID-19 has affected the operations and volunteer support for several of our community partners, leading some of them to cancel their distributions. Once we have a full sense of the cancellations, we will be working with community partners to create new distributions in high-need parts of our service area. We will be announcing these additional distributions soon, and updating our website accordingly.
Thank you for understanding.
UPCOMING DISTRIBUTIONS: Foodlink Mobile Pantry schedule
---
MARCH 16
SNAP BENEFITS
One key piece of information relayed from Sunday's new conference was related to individuals and families that receive SNAP benefits. Additional benefits are available to households during this crisis — and it is being coordinated through the Monroe County's Department of Human Services.
From their website:
SNAP recipients of households with children who would otherwise receive free or reduced-price meals if not for their schools being closed are eligible for emergency benefits. Households wishing to access this emergency benefit can call the SNAP Workgroup at 585-753-2740 or email dfa2a26.sm.monroe.team41@dfa.state.ny.us with a request. Additional waivers to the SNAP program administration will be forthcoming from NYS Office of Temporary and Disability Assistance.
Individuals in need of a benefit cards should call 585-753-6006 for a card to be mailed to them within 24 hours.
DHS WEBSITE: Visit the DHS website for more information about public assistance related to housing, heating, child care and more.
VOLUNTEER REQUESTS
The outpouring of the support from the community so far has been incredible. Many people have been donating to our COVID-19 Response Fund, and many others are asking about volunteer opportunities.
At this time, we are taking several precautionary measures to mitigate the spread of the virus. This, unfortunately, includes suspending our regular volunteer programming until April 3. We are doing this to ensure our efforts to provide food to the most vulnerable can continue. The safety of the community is our highest priority.
In partnership with United Way, however, we have developed a volunteer waitlist. As we monitor our needs, and those of our agencies, there may be some areas where we can safely invite volunteers to assist us. We will use this list to contact volunteers on an as-needed basis. Signing up does not guarantee you'll be asked to volunteer, but you will be one of the first we contact should a need arise.
SIGN UP TODAY: United Way Volunteer Waiting List
CALL 2-1-1
Foodlink partners with 2-1-1 LIFELINE to ensure people can access information about food-related resources throughout our 10-county region. People can call 2-1-1 for help, or visit the following websites, depending on your county of residence:
Monroe, Ontario, Wayne, Seneca & Livingston: 2-1-1 LIFELINE Finger Lakes Region
Allegany & Yates: 2-1-1 Helpline Finger Lakes
Genesee, Orleans & Wyoming: 2-1-1 Western NY
---
MARCH 15
Foodlink President & CEO Julia Tedesco joined city and county officials Sunday morning at a press conference at the Monroe County Office of Emergency Management.
Officials provided news updates on an array of services that would be provided to local residents in response to the COVID-10 (coronavirus) public health emergency. A vital service includes the distribution of food — especially to vulnerable populations and school-age children who depend on free and reduced-price meals at schools.
Officials announced that — starting Monday at 8 a.m. — 9 City R Centers and 7 schools will act as meal distribution sites. Foodlink will be preparing additional meals this week to assist the Rochester City School District meet the need for impacted families.
R Centers that will be providing 3 meals daily between 8 a.m. and 8 p.m. include: Adams Street (85 Adams St.), Avenue D (200 Ave. D), Carter Street (500 Carter St.), Tyshaun Cauldwell (524 Campbell St.), Frederick Douglass (999 South Ave.), Flint Street (271 Flint St.), David Gantt (700 North St.), Trenton & Pamela Jackson — Clinton-Baden (485 N. Clinton Ave.), Thomas Ryan (530 Webster Ave.).
Schools that will be open from 8 a.m. to 2:30 p.m. Monday through Friday include:
East Upper & Lower School (1801 E. Main St). Dr. Freddy Thomas Campus (625 Scio St.), the former Jefferson High School (1 Edgerton Pk.), James Monroe High School (164 Alexander St.), John Williams School No. 5 (555 Plymouth Ave.), Wilson Foundation Academy (200 Genesee St.), School #42 (3330 Lake Ave.).
Foodlink will be providing 20,000 additional meals this week alone — to assist with this mass effort. Unlike our typical meal programs, in which students gather to eat, Foodlink is strongly encouraging grab-and-go meals this week, to ensure the safety and well-being of our neighbors and practice social distancing.
Foodlink's food bank also will be receiving and distributing more than 2 million pounds of food to emergency food providers (pantries, shelters, meal programs) in the weeks ahead, to meet the rise in need as households seek to stock additional food items.
Tedesco urged pantries and other emergency food providers to remain open if they have the capacity to do so. Pantries can contact Foodlink for additional resources, and the public can find a pantry near them by calling 2-1-1 LIFELINE.
Finally, Foodlink is enormously grateful for the outpouring of support and donations, and also those who are willing to volunteer. While we have suspended large volunteer opportunities within our distribution center, the United Way is currently centralizing volunteer recruitment for numerous non-profits in the region. Prospective volunteers can contact the United Way for details.
---
MARCH 14
Foodlink monitored Saturday morning's news conference with Monroe County Executive Adam Bello and Monroe County Health Commissioner Dr. Michael Mendoza, during which officials confirmed the second case of coronavirus in Monroe County — and the first instance of "community spread" of the illness. The woman is an employee at Greece Arcadia Middle School, which resulted in the immediate closure of the Greece Central School District.
Hours later, Bello announced that all Monroe County school districts will be closed until further notice. Foodlink will be participating in a news conference Sunday at 10 a.m. with regard to emergency food and meal distribution plans.
In the past couple days, Foodlink has continued to communicate with local school districts to let them know that the Foodlink Community Kitchen can be a resource to help students and families who rely on free and reduced-priced meals. We have established plans to work with the Rochester City School District on providing thousands of meals — and have had productive conversations with other districts, as well.
In addition, Foodlink's food bank will soon begin receiving additional food and supplies, which we will be packing next week to send to our hunger-relief partners across our 10-county area.
CASES IN NYS: Department of Health data table
---
MARCH 13
Late Friday night, news broke that a U.S. District Court Judge issued an injunction that blocks the federal government from finalizing a rule change — scheduled to go into effect April 1 — that would have cut SNAP benefits for more than 700,000 people.
The proposed rule change would have limited states' ability to waive a work requirement for a segment of the SNAP recipients called Able-bodied Adults Without Dependents (ABAWDs).
NPR: Judge blocks rule that would have kicked 700,000 people off SNAP
---
MARCH 12
Below is a summary of how Foodlink is responding to COVID-19, including the escalation of parts of our operations to serve our community, and the suspension of others to mitigate community spread:
The emergency food system & our hunger-relief network
Foodlink's priority throughout this public health crisis is to do everything possible to ensure our food-banking operations continue to serve food-insecure individuals and families in our 10-county region — and those who may be newly affected by risk-reduction measures. Foodlink is:
• Assessing our inventory and working through our supply chain to stock critical food and non-food items. We know demand will be high in the coming weeks and months, and we are preparing for it.
• Maintaining constant communication with our network of hunger-relief partners to ensure they have the resources needed to serve the public. We are encouraging them to remain open, while implementing appropriate risk-reduction measures.
• Implementing an expanded emergency food distribution schedule to meet the needs of low-income communities. We will work with our network of agencies throughout our 10-county service area, the City of Rochester and Monroe County to determine appropriate distribution points.
School meals
Foodlink is acutely aware of how potential school closures will impact students who rely on free and reduced-price meals. The Foodlink Community Kitchen is ready and willing to be part of the solution to ensure students remain nourished during these uncertain times. Foodlink will:
• Communicate with RCSD and other community partners on a contingency plan to feed children, should schools shut down temporarily.
• Ramp up our meal-production efforts by redirecting staff members, doubling shifts and/or maximizing the capacity of the Foodlink Community Kitchen, which currently produces 3,000-5,000 meals daily for after-school programs in Rochester.
Volunteers & visitors
Foodlink relies on thousands of volunteers to help us sort donated food and assist with our many food-related programs. Heeding the advice of the Monroe County Department of Health and the Center for Disease Control, Foodlink has implemented several social-distancing and risk-reduction measures at our facility. As a result, Foodlink has:
• Suspended all volunteer activities in our distribution center, effective March 16 through April 3. This policy will be reassessed in April.
• Posted guidelines and implemented a visitor policy at Foodlink that restricts people from entering our building if they have traveled to a high-risk region, or are showing signs of illness.
Community Programs
Foodlink serves the community through a wide variety of food-related programs, such as nutrition education classes, and the Curbside Market. Effective Monday, March 16, Foodlink is:
Suspending our Curbside Market schedule for three weeks.

Canceling all Nutrition Education classes and events for three weeks.
We will reassess both schedules in early April.
Thank you for your cooperation and understanding. Please contact 2-1-1 for further information about food-related resources in our region.